In the heart of Cappadocia, Ortahisar Village, which has been a homeland for Hittites, Persians, Romans, Byzantines, Seljuks, Ottoman Empire since 1800 BC's, Anitya  caves had remained from this rich history.The house is near the center of village (5 min.) where the 'Ortahisar Castle' is located,which has been digged by Hittities (around 1600 BC)
Ortahisar means 'Middle Castle.' As it name implies it is in the middle of Urgup, Goreme, Uchisar, Avanos, Mustafapasa which are the central places in Cappadocia to visit.You can discover many different characteristic cappadocian landscapes, see historic caves, historic architecture, unique natural vegetation and some characteristic colours of Anatolia in Ortahisar Village.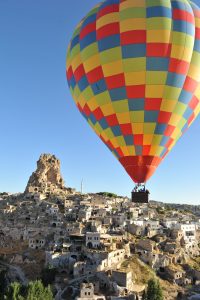 Only 1 km. away there is Göreme National Park and the Rock Sites of Cappadocia (UNESCO/NHK) starts  with Red Valley and there are many beautiful,scenic hiking trails that you can reach to different spots of the National Park.Many nice trekking trails to Goreme Open Air Museum.
*Also we have free shuttle service between Goreme and Ortahisar for our guests.
6 km. far away from Urgup; 10 minutes by car or service, 1 hour by walking.
From Urgup there are services to Goreme,Uchisar,Avanos and Nevsehir.
With its friendly inhabitants, picturesque stone houses, narrow streets, historical churches with Ortahisar Castle, Ortahisar remained more pure and untouched than other central places.
You can see Ishak Castle and behind it -one of the creator volcano of Cappadocia -Erciyes Mountain  from the terrace of Anitya Cave House.